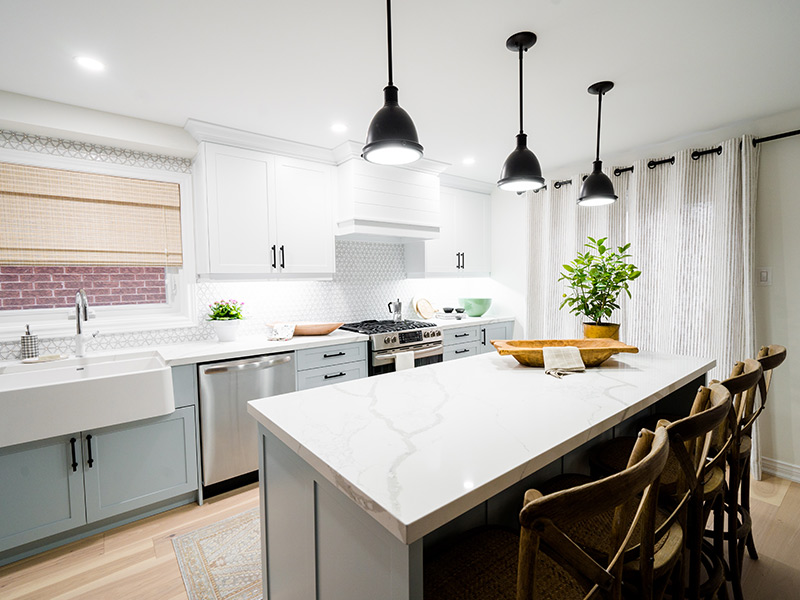 Top Kitchen Remodelling Trends In 2021
Top Kitchen Remodelling Trends In 2021
https://sunnyleahomes.ca/wp-content/uploads/2021/01/top-kitchen-remodelling-trends-in-2021.png
800
600
Marino Scopelleti
https://secure.gravatar.com/avatar/4f0c6f55dea8f5901fae4cb7ca19ec54?s=96&d=mm&r=g
2020 has been a year where many of us spent most of our days at home. We have cooked, relaxed, and entertained ourselves at home for quite some time now. While you spent so much of your time at home, you might have wondered about the changes, upgrades, or additions you would like to have in your kitchen. While a one-tone kitchen will most likely never go out of style, there are many new design trends for 2021 that you might want to take a look at. Apart from hygiene and cleanliness, here are some of the top kitchen remodeling trends in 2021.
Trend 1: Heavy Duty Paint
As people are spending more time in the kitchen than ever before, there is some typical wear and tear happening at light speed. Therefore, it has become more critical than ever to use heavy-duty materials and finishes. New modern emulsion paints are available in the market, giving great finishes, washable, and extra durable, making them look perfect for kitchen walls and even the cabinets.
Trend 2: Maximizing Smart Storage
Whether you have developed a sudden passion for cooking or you have a ridiculous collection of grandma's crockery, either way, you need space for storage. Increased storage was a necessity in 2020 and remains a necessity in 2021. Kitchen specialists in Toronto believe that people are going all the way out to make extra storage space in their kitchens. Like building customized kitchen cabinets to showcase or highlight some cool belongings, most kept hidden inbox. Hidden and well-located storage is a spice to the aesthetics of a kitchen.
Trend 3: Touchless Modern Faucets
We have now known the high importance of washing our hands, and it has become a crucial part of our lives. Even so, there is a growing demand for hands-free functionalities lately in the kitchen. Touchless faucets are essential for situations where we have to have less contact, making our work in the kitchen a lot easier. There are several automatic faucets available in the market. Some even come with voice assistance, thanks to technology. People embrace the vintage vibes in the year 2021, so hardware with metal finishes, like brass, matte colours nickel, etc., are also some styles to look for when buying faucets.
Trend 4: Large Islands
Large kitchen islands that are at least 24 square feet in size are a staple for most luxury kitchen renovation projects. A kitchen island is useful to cook, prep, and serve up food for family and friends, but it can have other multi-purposes like storage, a study table for kids sometimes, and homeowners can even use it for work. Having a large kitchen island is very useful as its functional. Have you ever thought of having your dessert bar on the other side of your kitchen island? Well, now you can!
Trend 5: Warm Colors and Organic Style
Warm colours seem to be overtaking the cool colour trend of past years. People nowadays opt for more greenery, natural wood tones, woven textures, gold, brass, and copper accents and wish these tones to be incorporated into their organic kitchen aesthetics. This kitchen remodelling trend relies on the same clean lines and transitional kitchens but with a look built on the warmth and textures of natural materials while adding a sophisticated touch.
Contact Sunnylea Homes for more information on the latest kitchen remodelling trends in 2021!