Condo Renovation Company in the Greater Toronto Area
Home > Condo Renovation Company in the Greater Toronto Area
Condo Renovation Company in the Greater Toronto Area
Innovative Designs and Impeccable Craftsmanship
When you want to revitalize an old condominium unit and bring it up to your taste and preferences, count on the expert condo renovation contractor at Sunnylea Homes. With decades of experience in remodeling condos and lofts in Toronto and across the GTA, we have a solid understanding of the condo regulations, and other nitty gritty details of condo makeovers. Our integrated team of creative designers, and licensed tradespeople can help you achieve the space of your dreams.
Mastering Condo Renovations in Toronto
At Sunnylea Homes, we believe that navigating the complexities of condo renovations in Toronto is an art, as well as a science.
Expertise: The varying shapes, sizes and structures of condos can pose several challenges while redesigning a unit. From the plumbing, wiring, and ducting, to the internal beams and walls, every element may have a unique requirement or limitation. Our experienced and qualified team find workarounds that maximize your renovation budget, without compromising the aesthetic components of the makeover.
Relationships and collaboration: Depending on your condo's rules and regulations, there may be a number of steps and approvals involved in remodeling your unit. For example:

Acquiring electrical permits to begin any renovation work
Buying insurance or paying a deposit to cover potential damages when material suppliers or tradespeople use the common elevators or hallways
Following the work timing restrictions as specified by the condo and / or the city's noise bylaws
Arranging parking spots for the renovation team and booking elevator time to minimize the cost and time of bringing materials and equipment to your site
Following the condo's specifications for the removal and disposal of construction debris
Respecting the structural safety limitations and redesigning only those parts of your unit which your corporation allows and adhering to acoustic regulations.
Over the years, our condo renovation specialists have built strong connections in the community, including:
Friendly relations with condo boards and property managers
Robust network of materials suppliers, who are familiar with condo requirements
These collaborations, along with our proven methods help us overcome any hurdles during condo makeovers and make us one of the most successful condo renovation contractors across the GTA.
Attractive, space-maximizing designs: The best condo renovations are the ones that not only improve the visual appeal of your unit, but also add several lifestyle enriching features that cater to your family's current and future needs. It could be in the form of various aspects, such as:
Innovative storage solutions
Collapsible, extendable, moveable, or removable work surfaces
Right selection of materials, paint colours and soft furnishings
Smart, hi-tech amenities that improve conveniences and conserve future resources
We draw on decades of experience in condo renos in Toronto to enhance the design and functionality of your unit, and create inviting, multi-functional spaces.
Fabulous Makeovers by Toronto's Trusted Condo Renovation Contractors
No matter how small or large your condominium unit, Sunnylea Homes follows a comprehensive approach to custom condo remodeling. From planning, to reconstruction and redecoration, we manage the entire project in a timely and cost-efficient manner. Our licensed, fully insured and WSIB-certified crew is well-versed with the nuances of condo renovations in Toronto and delivers stunning transformations to make your dream home a reality.
Delighted condo owners in Toronto and across the GTA vouch for our creative design solutions, impeccable craftsmanship, and consistent customer service.
Minimize your stress, maximize your budget, and achieve your dream suite or loft by partnering with the talented condo renovation experts at Sunnylea Homes. Call us at 416-789-5229 or contact us online to discuss your requirements.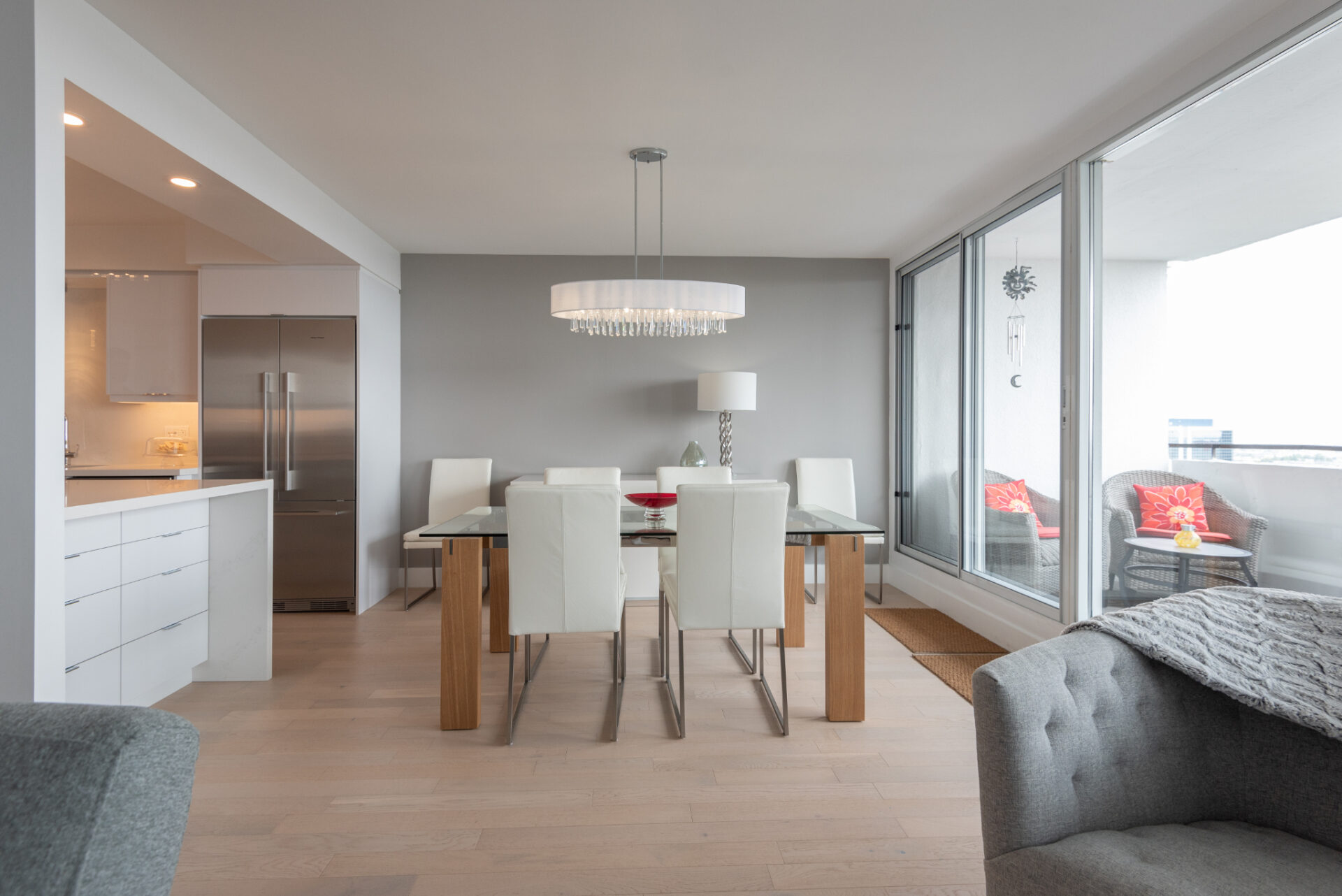 Revitalize your old unit and transform it into your dream suite! At Sunnylea Homes, we are experts in condominium renovations. Having years of experience communicating with condo management offices and adhering to a variety of regulations enables a smooth renovation process.