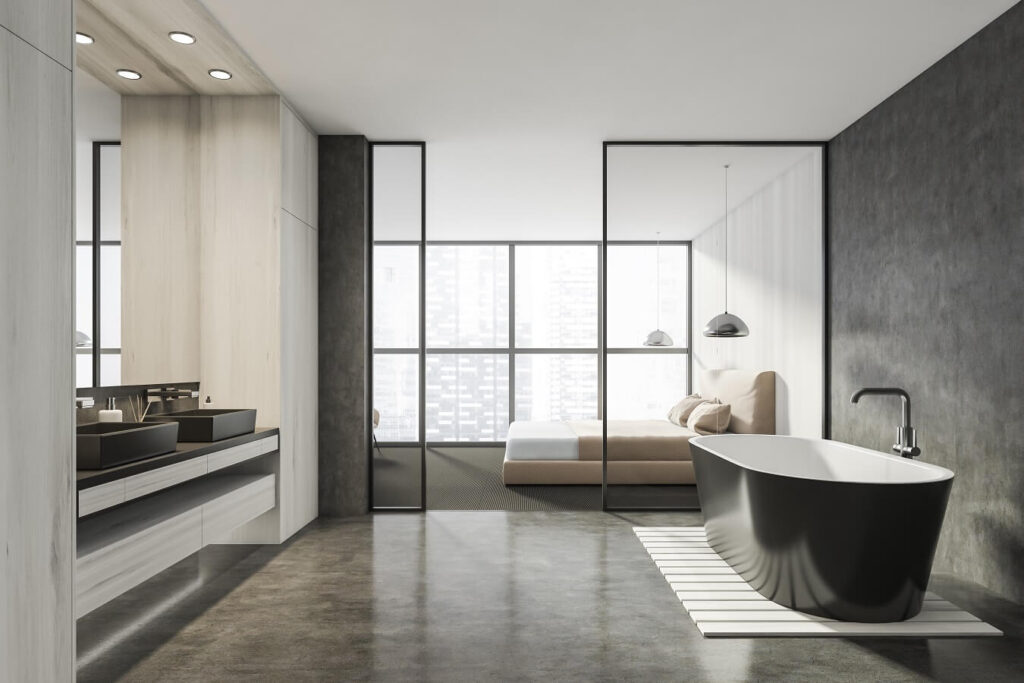 Top 5 Bathroom Remodeling Trends in 2022
Top 5 Bathroom Remodeling Trends in 2022
https://sunnyleahomes.ca/wp-content/uploads/2022/06/top-5-bathroom-remodeling-trends-in-2022-1024x683.jpeg
1024
683
Marino Scopelleti
https://secure.gravatar.com/avatar/4f0c6f55dea8f5901fae4cb7ca19ec54?s=96&d=mm&r=g
Having a wonderfully designed, a fashionable bathroom can make your day — after all, it's one of the first and final places you go each day. Bathrooms, overall, don't get the attention they need since they're not as visually beautiful as other rooms in the house. Discovering bathroom trends will help you decide which style is best for you and matches your house.
Bathrooms and toilets are no longer purely utilitarian, which is why they are now designed to be both attractive and functional. Today's remarkable and lavish bathroom design may astound you. They're not only attractive but they're made of cutting-edge materials. Interiors with mood-enhancing lighting contribute to the creation of a lovely and pleasant environment.
Bathrooms are now just as important as a comfortable living room in terms of design.
If you're looking for some of the most modern and fashionable bathroom renovation ideas in 2022, you've come to the right spot.
Sunnylea Homes' recommendations for the five most popular bathroom remodelling trends of 2022 to watch are listed below. This strategy will guarantee the success of your bathroom renovations.
1. FLUTED FINISHES
Fluted vanity units, with a black sink top and twin mirrors, are the latest bathroom renovation designs.
A modern take on traditional ribbed surfaces, the bathroom's ribbed surfaces are a visual and tactile treat. Reeded finishes are making a name for themselves in the interior design world. Shower doors with beautiful, vertically grooved glass provide quick privacy while allowing light to stream through, and delicately ribbed surfaces on vanity units and cupboards provide subtle appeal.
2. WALK-IN SHOWERS AND WET FLOOR
Another element that tops the bathroom remodelling trends in 2022 is design and architecture, rather than the distinct bathroom, toilet, or bathtub spaces. All three components unite in a single open area, creating a strong preference for walk-in showers and wet rooms over bathtubs.
You may design these walk-in bathrooms with plain tiles or colourful and patterned tiles to create a gorgeous focal wall or backdrop.
3. MARBLE SURFACES
In recent years, marble has been a recurring bathroom design trend across the world. Adding aesthetic appeal while maintaining a sense of simplicity, elegance, and superb taste is what you'd be interested in if you want to make your bathroom seem sombre with marble surfacing.
4. STREAMLINED STORAGE
To avoid a cluttered bathroom, many individuals make use of as much storage space as feasible. Linen closets, storage towers, cabinets, drawers, and open shelves are some of the bathroom trends for 2022. Even in larger spaces, bamboo tables with a magazine or a grooming product shelf can be used. There's a new craze for mirrored medicine cabinets and under-sink storage.
5. DARK, SUMPTUOUS COLOURS
Dark walls in bedrooms and living rooms have long been standard, but now it's time for the bathroom to follow suit. When it comes to decorating, there's no better way to get started than with a black metallic shower that's decked out in luscious navy tiles.
Colour palettes that are deep, rich, and opulent, giving a sumptuous aesthetic vibe are all the bathroom trends right now. Intense indigos and rich emeralds are the colours of choice for bold bathroom designs in 2022. Make an impressive design statement with deep inky blue and lighter wood tones.
Are you considering a bathroom remodel? Trust the best bathroom renovation contractors in the greater Toronto area who can change your bathroom into a space that represents your personality and lifestyle. Call Sunnylea Homes today at (416)-789-5229.