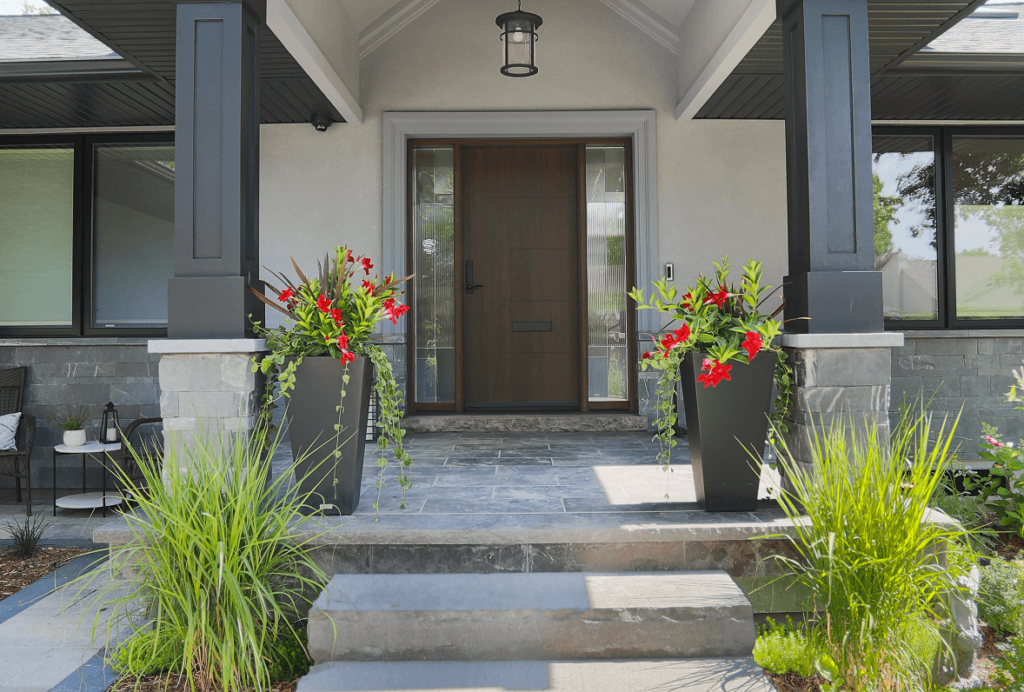 Top 10 Exterior Home Design Trends
Top 10 Exterior Home Design Trends
https://sunnyleahomes.ca/wp-content/uploads/2021/11/top-10-exterior-home-design-trends-1024x692.png
1024
692
Marino Scopelleti
https://secure.gravatar.com/avatar/4f0c6f55dea8f5901fae4cb7ca19ec54?s=96&d=mm&r=g
Every house design is unique beyond its size and number of rooms with its exterior home design features, whether it's something as simple as a change in paint color or something as extravagant as an opening rooftop. With all the latest trends, floating around it gets challenging to make up your mind on one trend. Do you need some exterior home design ideas to help you choose your new or renovated home? Sunnylea Homes' custom home builders have created a list of the Top 10 exterior home design trends that can be helpful, so let's dive into the list without any further ado.
Trend 1- Eco-friendly Ascents
With the ever-increasing global warming crisis, well-renowned custom rebuild specialists opt for eco-friendly addition in their design plans. Even homeowners are becoming more environmentally conscious of home improvements by adding something as basic as solar panels, eco-friendly materials, rain barrels, etc.
Trend 2- Statement entryways
The central point of a house exterior design should always be the front door. Homeowners can consult Sunnyleas design-build contractors to make a can't miss showstopper with a statement entryway.
Trend 3- Indoor-outdoor living
People have practiced social distancing for more than a year, and homeowners now value an outdoor space more than ever due to the limitations on outdoor movement. Custom home builders are experiencing an emphasis on indoor-outdoor living lasting beyond the lockdown phase and reimagining their front porches or create additional living space in their backyards.
Trend 4- One House Multiple Spaces
While the pandemic forced the concept of social distancing, it also bought families together under one roof as individuals continued to work and learn from home, due to which spacious homes with separate living areas are becoming a top priority for many. Our custom rebuild specialists are trying to make this concept work by seamlessly integrating the spaces into one uninterrupted facade.
Trend 5- Modern wood accents
People are embracing the concept of having a touch of natural elements in their homes. Custom rebuild specialists seek different ways to fuse modern wood siding into your home's exterior design. Wood adds texture and a bit of personality to a space. Additions like vintage wooden doors and windows can spice any home design.
Trend 6- Stonework
The stonework is a beautiful exterior home design usually found in European house designs. It adds a charming curb appeal factor, and it is unique because our custom home builders can construct it in many ways making your home feel more natural and different from the rest. A stone veneer can make your ordinary home look more like a castle as it conveys a sense of history with the right touch.
Trend 7- Earthy Tones Are Back
Grays, whites, and dark neutral tones will always be classic and never go out of style; this year, we are beginning to see a lot of brown, earthy tones come back into vogue. The warmth of this color palette also gives a very natural look. If you are developing a taste for earthy tones, you could opt for taupe, beige, terra cotta, and other warmer shades of brown.
Trend 8- Transitional Style
The transitional style is the most developed trend in exterior home design as it is a transition between traditional and modern. According to most custom home builders in Toronto, it is more like borrowing timeless conventional design elements with the definite sensibilities of the contemporary aesthetic. Look for neutral color schemes with dark accents, mix-and-match materials, minimalism, and balance in the same strain.
Trend 9- Lots of Window Space
Natural lighting is always a big hit among house owners and design contractors. Moreover, open spaces and windows are the best way to achieve that atmosphere in today's environmental setting. Choosing windows that match a home's original architecture will make it look like the house is custom designed and built with new windows. This exterior home design will give a chic touch to your house while making it look classic.
Trend 10- Angled Garage
An increasingly pop exterior design feature is the angled garage. This trend does not collide with the façade as much from the straight-on scene; instead adds some dynamic interest. Besides being aesthetically pleasing, this exterior house design idea is excellent for expansive properties that are not very deep.
Are you inspired by any of the above-mentioned exterior home design trends? Contact Sunnylea Homes custom home builders to make these additions to your beautiful home today.