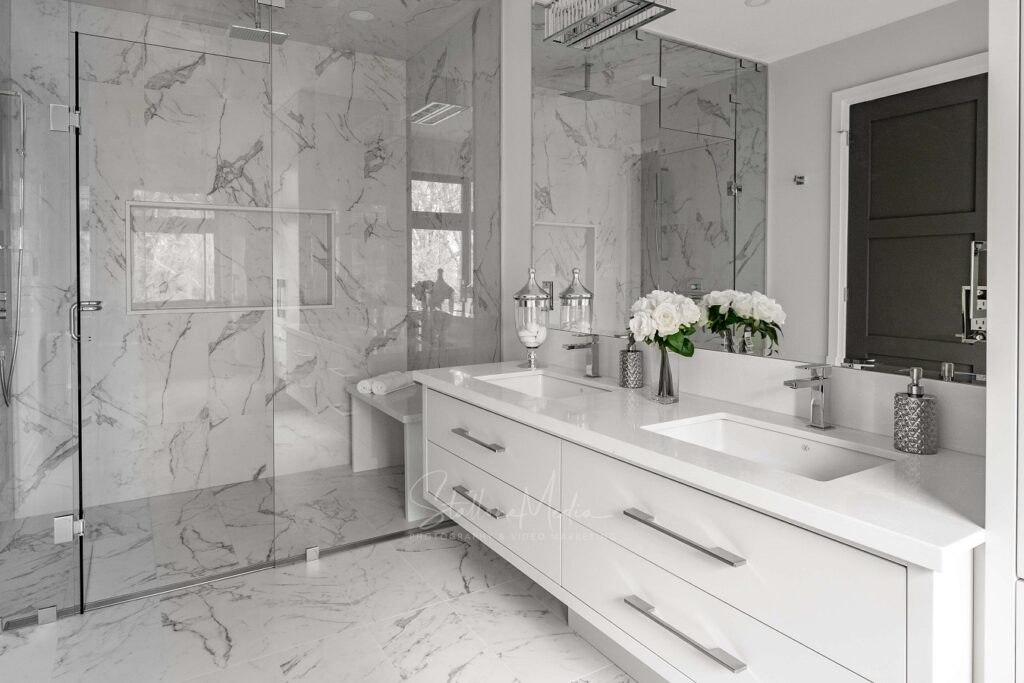 Tips to Create a Luxurious Master Bathroom
Tips to Create a Luxurious Master Bathroom
https://sunnyleahomes.ca/wp-content/uploads/2022/02/tips-to-create-a-luxurious-master-bathroom-1024x683.jpg
1024
683
Marino Scopelleti
https://secure.gravatar.com/avatar/4f0c6f55dea8f5901fae4cb7ca19ec54?s=96&d=mm&r=g
Have you ever experienced one of those luxurious hotels with spa-like master bathrooms, and now you wish to have a similar experience at home? What if we told you that you could have a similar experience if you spruce up your bathroom renovations? Sunnylea Homes has curated these tips to help you create a luxurious bathroom in your home. Let us dive in by choosing the right colour palette for your bathroom.
1. Opt for a Colour Palette That You Like
The last thing you need is copying a colour that you saw in a catalogue, hotel, or friend's house. If having a bold bathroom is your objective, you can ask bathroom renovators in Toronto to include colourful wall coverings and ornate and over-the-top accessories in your bathroom remodel. We believe that there are varied colour schemes available for every client wanting to create a luxurious bathroom. While there is no designated deftness for any one colour, the rule of three is to pick one neutral, one rich colour, and one accent works for most.
2. Consider Open Shelves
Luxury is not about a minimalistic or maximalist approach but rather finding a balance between these two factors. Your bathroom remodelling project could include strategically placed open shelves supplementing an aesthetic attractiveness.
3. Heated floors
Having heated floors is a true luxury. Imagine taking a hot shower only to step on cold floors. Walking onto floors that are warm against bare or wet feet brings home the comfort and pleasure of an excellent luxuriant bathroom design.
4. Water Closet and Luxury Toilets
The water closet is one of the best designs you can include in your bathroom renovations for any luxury bathroom design. A water closet is a design that places the toilet in a separate space, often the size of a cabinet or just a bit more significant. Luxury toilets are ideal choices for this hidden or a different area of the bathroom.
5. Lighting Choices
If you have ever savoured a luxury bathroom experience, you know that it is all about the ambience. Proper lighting assists in highlighting all the beautiful features in your bathroom remodel. If you are wondering how much lighting you would need, well, you have options that range from vanity lighting to mirror lightning; the choice is yours. Sunnylea Homes bathroom renovators in Toronto can help you figure out which type of lighting is appropriate for which space in your bathroom.
6. Heated Towel Rack
After a great massage, steam shower, or just a long shower, have you ever been offered cold towels in a spa? So if you want to create a luxury bathroom, why would you like a basic towel rack when you can have a heated towel rack? A warm towel after a shower is a necessity for any luxury bathroom.
7. Find Inspiration in the Environment
Whenever a space attains cohesion between its design and the surrounding environment, it naturally becomes a little more relaxing. For instance, different sizes of plants can also break up a room or make up another level to the design that other kinds of accessories can be hard to achieve. So it is essential to be mindful about not over-accessorizing with such elements in your luxurious bathroom.
8. Make Your Vanity Stand Out
Gone are the days vanity meant a stand-alone sink. With numerous creative designs emerging every season, bathroom renovations have evolved by providing countertop space, storage, and a sneaky way to hide the plumbing. They often become the focal point of a bathroom, acting as the unifying design piece for the whole room. While every house has different requirements, Sunnylea Homes' bathroom remodelling contractors can customize vanity according to your needs and preferences.
9. Consider Adding Some Seating
Have you ever been to a luxury bathroom without any seating? A place offered to sit down is a detail of luxury. The seating can be anything you like, maybe a comfy upholstered bench, an ottoman, or an armchair. Maybe adding a stool near the bathtub to hold the magazines or even a drink is itself luxurious. Nevertheless, adding any seat in your bathroom will give a more luxurious feel and change the whole feel of the room.
To incorporate some or all of the tips mentioned above to create a luxurious master bathroom, get in touch with Sunnylea Homes' bathroom renovators in Toronto today.