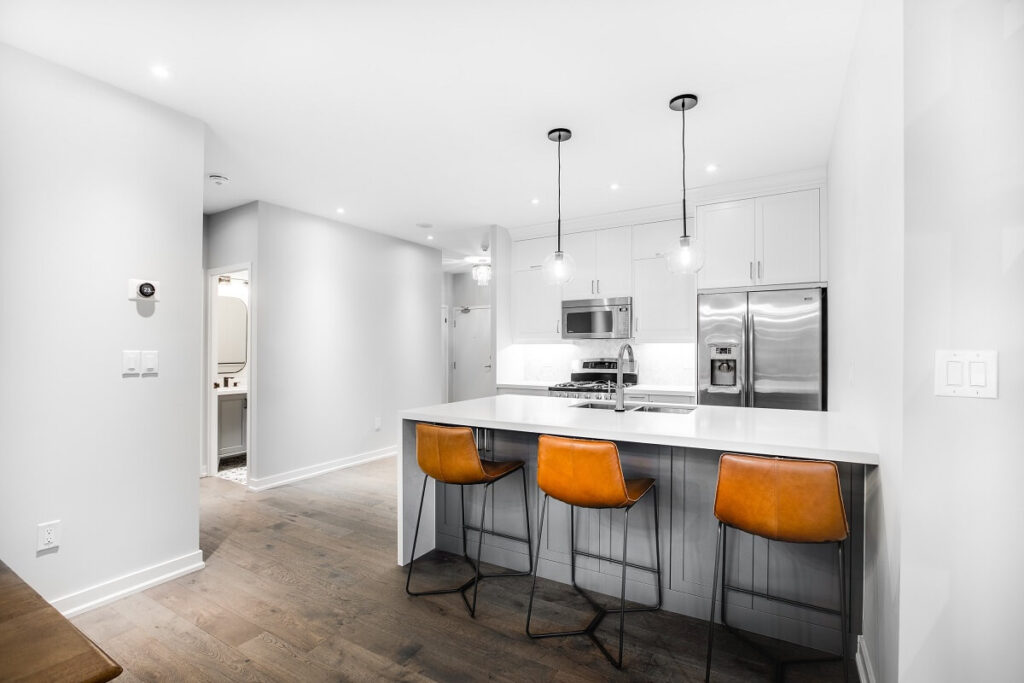 Popular Renovation Ideas for a Condo
Popular Renovation Ideas for a Condo
https://sunnyleahomes.ca/wp-content/uploads/2021/10/popular-renovation-ideas-for-a-condo-1024x683.jpg
1024
683
Marino Scopelleti
https://secure.gravatar.com/avatar/4f0c6f55dea8f5901fae4cb7ca19ec54?s=96&d=mm&r=g
With the increasing number of people living in condo units, homeowners are wanting to maximize and enhance their living experience. Here are some creative renovation ideas to accomplish this.
Kitchen countertops and backsplash
Countertops and backsplash can truly make or break a kitchen. Consider changing the old countertop to a beautiful quartz slab. Then compliment by adding cool backsplash, bringing the whole look together.
Consider a Feature Wall for your condo unit
This design element will add style to any room. There are many products to choose from to create a feature wall, such as wallpaper, wood paneling, or even large porcelain stone tiles.
Update The Lighting Features In Your Condo
Nothing is duller than a dimly lit condo. Lighting plays a crucial part in any condo as it is a significant factor that can also affects your mood. In most older condos there is not much lighting. Adding new lighting is a challenge as the ceilings are concrete.
Creative ways to add lighting is to install low profile led potlights, which only requires a soffit of approximately two to three inches. Another way to install light fixtures in new location is by running conduit wires and then covering the ceiling with decorataive moulding to hide the wiring.
Upgrading the paint colour
Painting your condo is an exciting and creative way to update your décor. Many contemporary condo designs include a combination of large and small rooms as well as open concept.
Condo renovation companies in Toronto recommend using neutral colours to decorate, so more natural light comes in. However, you could have some fun and select different paint colours for each room. Choose your favourite colurs to reflect your personality and tie it all in with flowing decor
Closet Space
Most condo units have limited closet space. To solve this problem, consider custom built in closets. Not only will the cabinetry make your space look beautiful, they are also the perfect solution to organize your wardrobe and other personal items.
Crown Moulding
Get inspired by adding this sophisticated design element to a room. Installing a dropped crown moulding with string lights tucked inside will give your space a luxury feel.
Make the Most Out Of a Space in Your Condo
Condos are usually smaller in size compared to traditional housing spaces. When you have a small space, the organization is a significant factor; having adequate storage and organization can conserve your space from feeling cluttered or even more diminutive than it is. Famous condo renovation companies suggest the best way to make the most out of an area is to combine storage and design.
Are you looking for the best condo renovations in Toronto? Get in touch with Sunnylea Homes today.