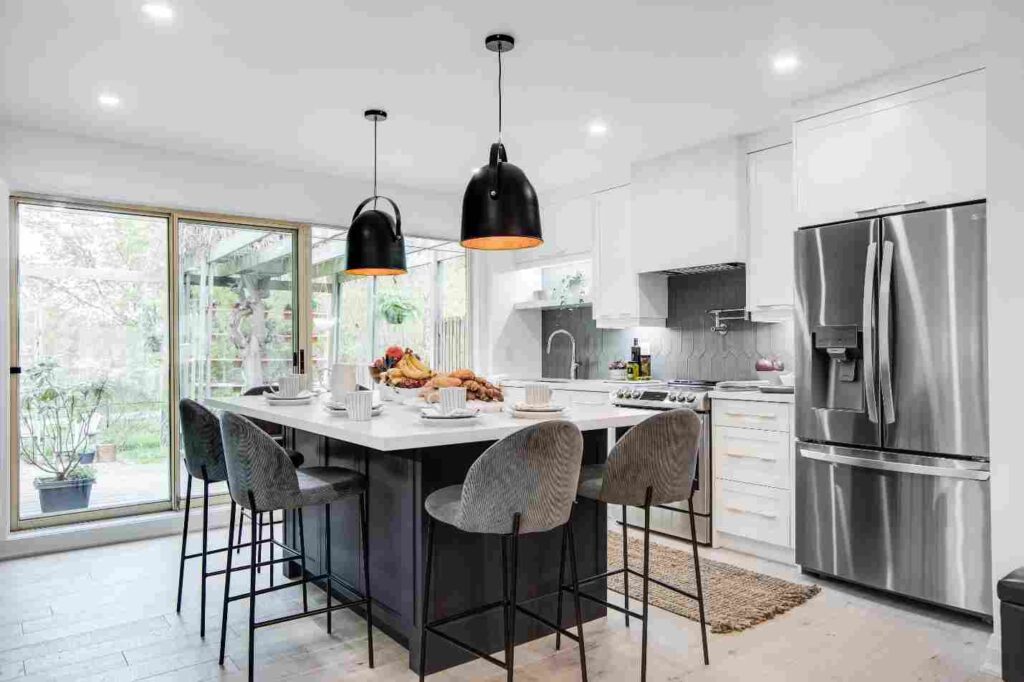 How to Make Your Kitchen More Spacious
How to Make Your Kitchen More Spacious
https://sunnyleahomes.ca/wp-content/uploads/2022/09/kitchen-1024x682.jpg
1024
682
Marino Scopelleti
https://secure.gravatar.com/avatar/4f0c6f55dea8f5901fae4cb7ca19ec54?s=96&d=mm&r=g
Small kitchens can be a challenge at times, but they don't have to feel cramped and uncomfortable. Instead, you can make your small kitchen feel more spacious and functional with a few creative tricks. So, keep reading because we've listed a few simple tricks to get your kitchen feeling bigger.
1. Open Shelving
Utilizing walls and overhead space is a great way to keep clutter off of countertops. However, we always recommend open shelving for small kitchens with limited counter space. This option provides storage while not blocking off the eye line with bulky cabinetry.
2. Integrate the Great Outdoors
If you have a small kitchen, one way to make it feel more spacious is to integrate your backyard for a cohesive look. For example, install double French doors that lead to the back porch – this opens the space, making it feel larger.
3. Large, open windows
Natural lighting emulates and enlarges the space around it, so take advantage of what nature offers! If you already have large windows or have the opportunity to install some in your small kitchen, do it. The extra light brings an airy element, and the view will make your kitchen feel more spacious.
4. Keep It Simple
The simpler the design, the more spacious it will feel. We recommend sticking to a clean and streamlined design for small kitchens. Simplicity is key in making a small kitchen appear bigger since overlapping design elements don't block your eye's view.
5. Knock Down Walls
If you're tight on space, consider knocking down any non-load-bearing walls. This will open up the kitchen and make it feel more spacious. And depending on the layout of your home, if the wall adjoins your living or dining space, it'll bring more light in and create a unison look. Just be sure to consult a kitchen renovation specialist before taking on this project!
6. Paint The Ceiling
In small spaces, painting the ceiling can make a big difference. A light-coloured ceiling will reflect light and make the area feel larger.
7. Elongate Floor Space
Horizontal striped tile flooring that runs from each side of the room stretches the floor space in your kitchen. Consider altering light and medium-tone floor tiles to achieve a striped look. Or use chevrons to create long diagonals which draw your eyes from one end of the room to the other.
8. Draw the Eye Upwards
With a few simple changes, you can lead any eye where you want it to go. Give your kitchen long vertical lines that make the ceiling appear higher; your small kitchen will feel less boxy. Use moulding atop your cabinetry and add decorative plates, baskets, and ceramics to constantly draw the eye toward the ceiling.
9. Cut Out the Clutter
Visible clutter on countertops, tables, and windowsills makes a small kitchen feel cramped. So, one of the easiest ways of making your kitchen feel more spacious is to get rid of the clutter. Put away any small appliances that you don't use regularly. And try to find creative storage solutions for items you need to keep out in the open.
Depending on the task, creating the kitchen you desire may require the help of a kitchen renovation company. If you plan on doing some kitchen remodelling and need the job done right, visit Sunnylea Homes to see what our kitchen renovation specialists offer.