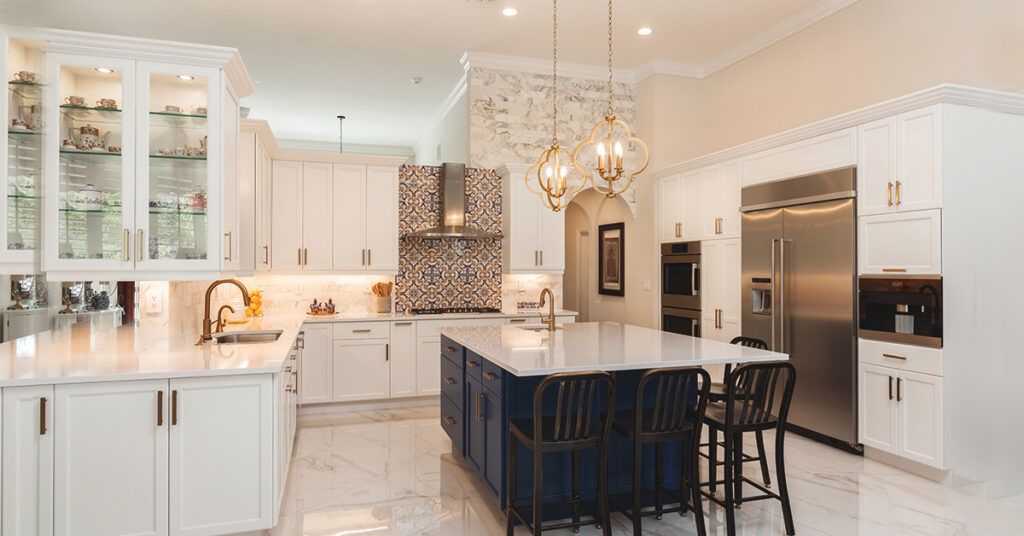 Modern Luxury Kitchen Design Ideas
Modern Luxury Kitchen Design Ideas
https://sunnyleahomes.ca/wp-content/uploads/2022/06/Sunnylea-Homes-Blog-17-08-1024x536.jpg
1024
536
Marino Scopelleti
https://secure.gravatar.com/avatar/4f0c6f55dea8f5901fae4cb7ca19ec54?s=96&d=mm&r=g
In a modern luxury kitchen, both style and function are incorporated. Their size and openness characterize today's houses. Flat surfaces and smooth doors are the hallmarks of contemporary kitchen design. Kitchen cabinets can be designed to meet a wide range of different layouts.
Marble Countertops in a Modern Luxurious Kitchen
When it comes to high-end kitchen design ideas, marble countertops are a great option. Marble is a stunning material that can elevate a kitchen to a new level of opulence. Make your kitchen stand out from the others with the help of a wide range of colours and designs.
Stools for a Modern Luxury Kitchen
To make a style statement in your kitchen, consider installing designer stools. The grouping of these modern stools serves as a design centrepiece. These stools have an incredible level of geometric precision—elegantly crafted brass legs. Adding wood to the room's decor enhances the overall look and feel.
In a high-end modern kitchen with high-tech appliances.
A luxury kitchen is characterised by its use of high-end materials, cutting-edge technology, and high-end kitchen appliances. Modern kitchens have evolved because of technological advancements, making them more functional, stylish, and efficient. Smart double-door refrigerators and high-tech ovens are common features in modern luxury kitchens.
Modern kitchen with lighting designs that are luxurious
Stylish and functional lighting can take a modern luxury kitchen to the next level. Luxury lighting extends beyond recessed, pendant, and ceiling lights. It is possible to incorporate pendant lighting over the island and a chandelier over the dining area into a modern luxury kitchen. LED cool lighting is a great option for the kitchen. Use dimmer switches to give yourself more control over the ambiance. Designer-style worktops and backsplashes are brought to life with the help of backlit cabinets, which provide both task lighting and accent lighting.
Design a Modern Kitchen with an Unusual Geometric Pattern
Modernist kitchen interiors make extensive use of unusual geometric designs. Use unconventional shapes in all aspects of your plan, from the counter to the cabinetry. These geometric shapes add to the richness of luxury modern kitchen designs because of their fineness.
Luxury modern kitchen with two large kitchen islands
Today's luxury modern kitchen is more than simply a place to prepare food; it's also a place to host gatherings with loved ones. A kitchen island is a common fixture in many homes. The best luxury feature for a kitchen is an expansive kitchen island with pendant lighting. A two-island kitchen has a posh appearance and is a talking point. You can acquire more counter space and storage by installing two islands next to each other, whether they are parallel or T-shaped, or even adjacent, as well as an integrated cooktop/range and a bar-style eating area. A waterfall island can be the centrepiece of your kitchen's visual appeal. From every aspect, the countertop can be appreciated. Make your kitchen design stand out from the rest by using a variety of unconventional shapes.
We believe that a well-designed kitchen can transform the heart of your home. Our kitchen renovation specialists work hard to create both beautiful and functional kitchens so that you and your family can enjoy every meal, conversation, and activity in style.
Create the kitchen of your dreams. To get in touch with the kitchen renovation company in Toronto that you can trust, call 416-789-5229 or use our online contact form. Kitchen remodeling ideas that fit your style and your budget can be discussed with us.