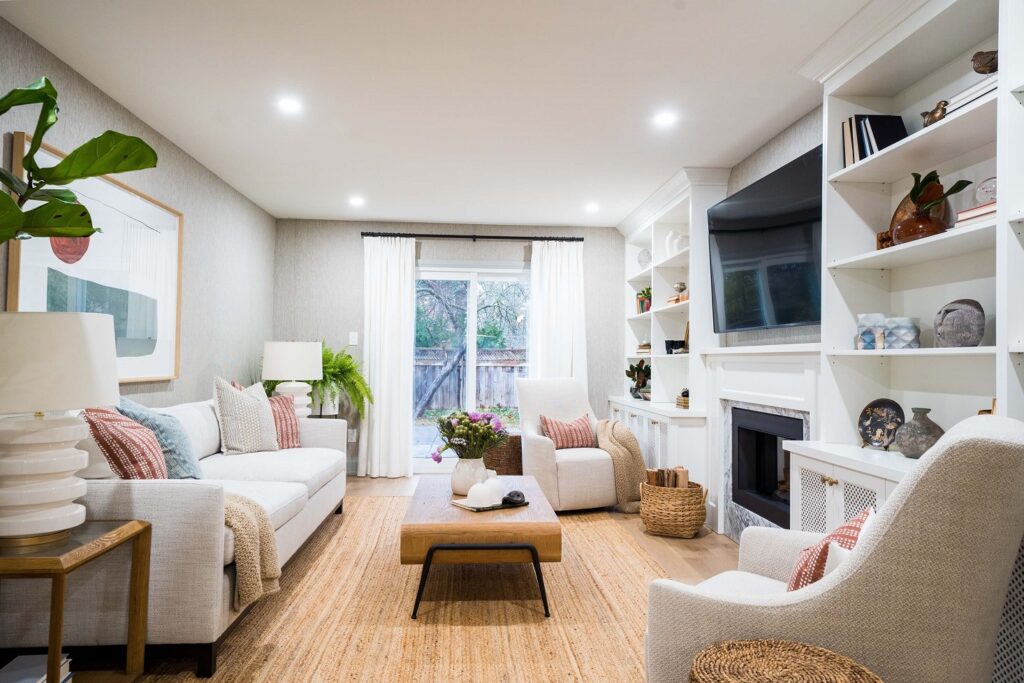 Essential Living Room Decorating Tips to Follow
Essential Living Room Decorating Tips to Follow
https://sunnyleahomes.ca/wp-content/uploads/2021/12/essential-living-room-decorating-tips-to-follow-1024x683.jpg
1024
683
Marino Scopelleti
https://secure.gravatar.com/avatar/4f0c6f55dea8f5901fae4cb7ca19ec54?s=96&d=mm&r=g
Most homeowners undoubtedly spend a lot of time in their living room between entertaining and Netflix-binging. At Sunnylea Homes, we believe the living room is the most important area in your home for interior decoration. It is often the first room you beautify and the first room you show your guests during sightseeing. At Sunnylea Homes, we believe a marvelously designed living room both draws you in and compels you to live comfortably.
A living room should have a few reasonably apparent essentials, i.e., chairs and entertainment that provide comfort. Many vital steps can help you achieve a genuinely dreamy living space. Whether you are starting from scratch or you are ready for a living room makeover, the following essential decor tips will guide you as you design and build a living room that is striking and efficient.
1. Choose the right furniture
You must think of what furniture you own and be honest about whether it works for your living room. Redecorating your living room is a great chance to understand what is noteworthy to you. What is the point of holding onto your beloved recliner/loveseat that is not working anymore for you; it is best to let go and start fresh.
2. Allocate a focal point
Your room's focal point is one of the most important aspects where people's eyes will fall when they first walk into your room. Make a natural focal point such as a large fireplace or mantle, an oversized mirror, a grand piano, or extra-large artwork. Once you decide on the focal point, design the room for a more cohesive feel; ensure you get a good vibe of the focal point. If you have a gorgeous fireplace, a quick makeover can change the complete look of your living space and add a fresh look.
3. Pick the right colour palette
The colour scheme is crucial to refining a perfect living room aesthetic. Our renovation contractors think having a colour palette in mind is a simple way to keep the look of your living room clean and purposeful.
4. Balance function and beauty
Being one of the bonded home renovation companies in Toronto, we feel the room has equal parts- beautiful and functional, necessary to create a gorgeous living room. You can decor your space as you like, but it is vital to ensure your room works for your tastes and lifestyle. An ultra-stylish couch may be eye-catching, but ask yourself whether that will be comfortable. The most significant element of a magnificently designed living room is that it is a place you will want to
hang around more.
5. Set the Right lighting
Setting the proper lighting in the living room can get quite challenging, but it can also pull the whole look together. Our home improvement experts in Toronto suggest a blend of various lighting, including overhead accent and task lighting, that enhances the overall look and feel. Once you have everything you need, you can focus on finding suitable light sources that blend with your decor scheme.
6. Avoid a store feel
Most homeowners would rush to a vast store to decorate their living room, but our renovation contractors feel to give your living room the ultimate wow effect, it is essential to avoid buying items from stores. It may take extra time to curate every piece from different sources, but the outcome will give your room a more exceptional feel.
Are you are looking for a genuine home improvement company in Toronto or need a licensed renovation contractor, call Sunnylea Homes today.