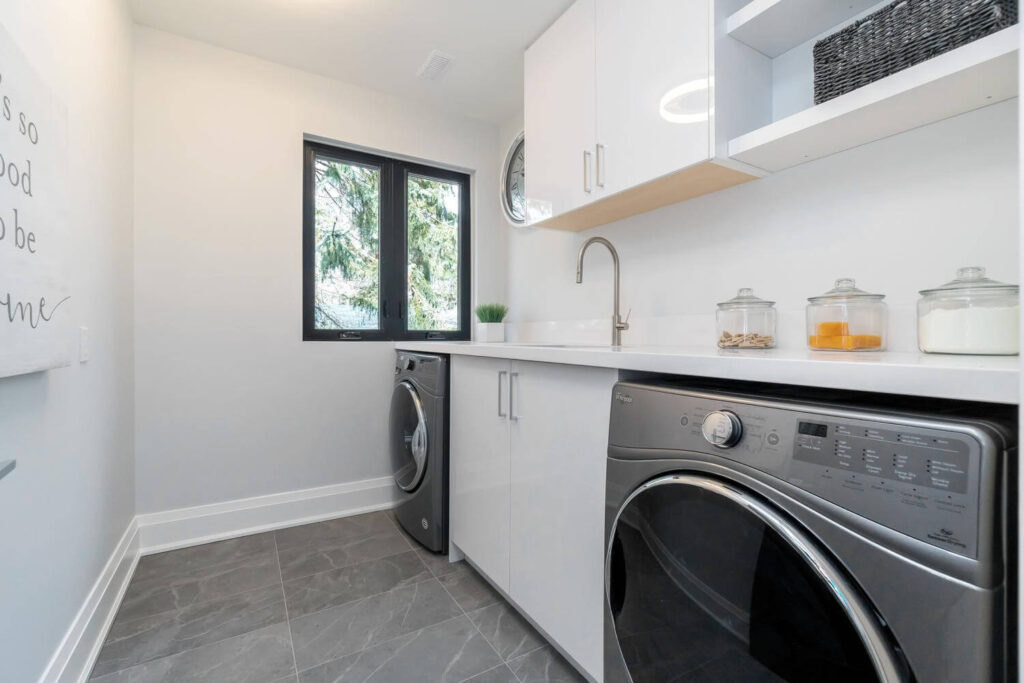 Creating a Functional & Stylish Laundry Area
Creating a Functional & Stylish Laundry Area
https://sunnyleahomes.ca/wp-content/uploads/2022/01/creating-a-functional-stylish-laundry-area-1024x683.jpg
1024
683
Marino Scopelleti
https://secure.gravatar.com/avatar/4f0c6f55dea8f5901fae4cb7ca19ec54?s=96&d=mm&r=g
A functional and stylish laundry is crucial for keeping things neat, clean, and organized. Don't be anxious if you don't have a massive space for washing and even folding clothes. All of our laundry room ideas will help you achieve the most of what you do have at the moment. And beyond functionality, Sunnylea Homes being top custom rebuild specialists, have also included an array of decorating ideas since laundry areas do deserve some love and design no matter how small or big the room is. Moreover, laundry day means a tough day—you may as well do all the washing/drying in a smart and stylish area. We believe with a little bit of effort; the laundry area can be as trendy and organized as the rest of the home.
Sunnylea Homes offers ten inspiring ideas to turn your laundry area into a standout space that you will love to show to guests.
1. Hold Matching Finishes
A neutral-toned laundry area exudes English-country timelessness. Adding exposed hinges, classic farmhouse sink, and traditional flush mounts will never go out of style. Try that the cabinetry mimics that of the kitchen for a steady look in the home.
2. Use Fluted or Frosted Glass Doors
If you have a tiny laundry room, you can tuck hideous laundry essentials behind a fluted-glass cabinet door. This type of material obscures blemishes and takes up less visual real estate than painted-wood cabinet doors.
3. Stock a couple of washing machines
If you have large families, you must consider buying a couple of machines to save you some time. In your flawlessly preppy laundry room, we recommend adding shades of blue to provide a pleasant distraction from the additional appliances.
4. Place things in a Cabinet.
Putting aside a washer and dryer behind closed doors in your bathroom is the best option. If you want the storage to blend, try painting the cabinets the same colour as the walls. For instance, if your appliances are front-loaded, this is a great way to hide them. Your guests will never be able to assume that this is where you spend your time on laundry day.
5. A Dreary Window Site
Spending hours working in the laundry area can be tedious. Lining laundry room walls with a quirky tile backsplash will help you take more pleasurable in finishing your tasks than staring at a blank wall.
6. Reconfigure a Powder Room
Transforming an underused powder room into a laundry area is an excellent option if you don't have extra space to build one. Our custom home builders recommend adding subtle curtains, a farmhouse sink, conventional lighting fixtures, and an oversized mirror to make the room feel much more elevated.
7. Split with Pocket Doors
Pocket doors help split a laundry area into spaces with diverse uses so that you can do multiple jobs in each area. E.g., you could add extra square footage to reuse as a flower-arranging room.
8. Include a Kitchen Island
Our design-build contractors recommend adding a portable kitchen island. Also, adding a small folding table is a great way to repurpose old furniture or additional stock furnishings.
9. Hang Cleaning Tools from Hooks
Discover a designated place to hang all cleaning materials/equipment. Not only will wall hooks put them within easy reach, but they'll as well keep them out of the way.
10. Give your Laundry Area a double function.
Adding custom hardware extending from the built-in bench to the sink area is a great alternative to make the laundry space more functional. Also, stylish black-and-white accessories complete the look in the laundry area.
Do you need more laundry area ideas? Call Sunnylea Homes today for a free quote!