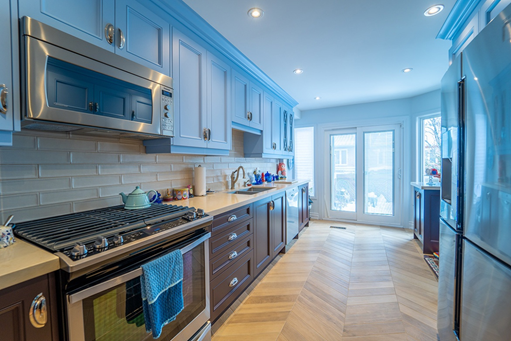 A guide to home renovations during uncertain times
A guide to home renovations during uncertain times
https://sunnyleahomes.ca/wp-content/uploads/2020/12/home-improvements.png
511
341
Marino Scopelleti
https://secure.gravatar.com/avatar/4f0c6f55dea8f5901fae4cb7ca19ec54?s=96&d=mm&r=g
Quarantine at home has undoubtedly made you more aware of the flaws around your house. And the past several weeks of spending time at home may have given you ample opportunities to plan for repairs, home renovations, and even look for
home renovation companies in Toronto
. Do you think if this is the right time to start repairs or home renovations? The answer to this is: it depends! Currently, many home renovation contractors such as Sunnylea Homes have accepted interior home improvement projects in Toronto. However, if you want to be on the safer side and wait it out till this pandemic ends or do some small renovations by yourself, you can use this time to talk with friends who recently completed their home renovation projects. Or read the below few points we think you should consider:
Prepare for delays or extending your renovation timelines:
Many manufacturers, suppliers, and contractors are facing shortages due to the disruption caused to the
– Manufacturing sector
– Supply chains
– Export and import and
– Economic crisis
Be patient and prepared to experience delays. Lucky for you, SunnyLea Homes are accepting new home improvement and home renovations in Toronto.
Budget & finance:
Every homeowner expects maximum returns on their home remodel. Remember, kitchen and bathroom remodeling returns are the highest. Sixty-two percent of the cost on a kitchen remodel, and 67 percent of the price on bathroom renovations is the average that a homeowner can recoup.
Finance your home renovations in Toronto:
During a crisis, many people do not have the excess money to put towards renovations. Your funds should first go towards living expenses. But remember, there are ways you can go about financing your home renovation projects without putting a dent into your financial situation. For example, you can apply for an open line credit loan or take out an equity loan. This loan will give you ample opportunity to finance your home renovation comfortably, and you can pay this loan amount quickly over a more extended period. Similarly, if your home improvement cost is low, you can use a small chunk of your savings or pay for it via a credit card, as long as you can pay it off on time. Sunnylea Homes is a
full-service home renovation company
specializing in home makeovers in Toronto and across the GTA. If you are looking for a home makeover in Toronto, contact us today!