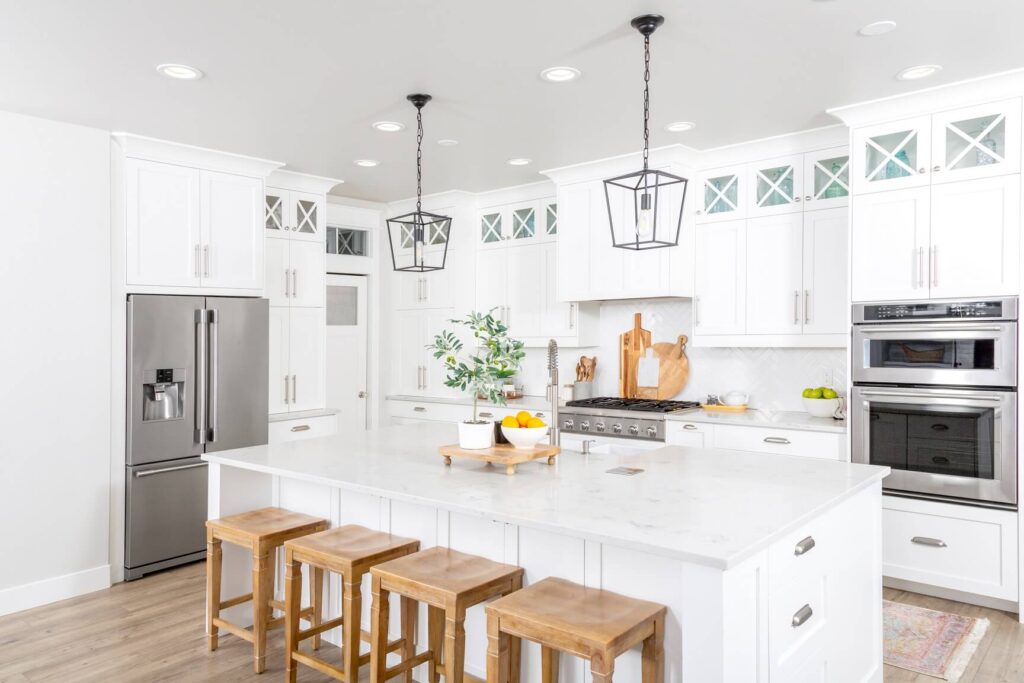 9 Must-Haves in a Remodeled Kitchen
9 Must-Haves in a Remodeled Kitchen
https://sunnyleahomes.ca/wp-content/uploads/2022/05/9-must-haves-in-a-remodeled-kitchen-1024x683.jpeg
1024
683
Marino Scopelleti
https://secure.gravatar.com/avatar/4f0c6f55dea8f5901fae4cb7ca19ec54?s=96&d=mm&r=g
How would you envision your ideal kitchen? An elegant new kitchen with smart storage solutions? The arrangement of your dream kitchen may be reworked entirely and rearranged.
You should be thrilled with the results of your kitchen remodelling project. You've found the ideal place if you're in the market for new kitchen essentials. The kitchen renovation specialists at Sunnylea Homes in Toronto has compiled a list of some creative ideas for your kitchen renovation.
1. Classy Décor
The kitchen design is progressively emphasizing its aesthetic value in today's market.
You can make a big difference in your kitchen by adding different design elements. Some possibilities include decorative tile backsplashes, artwork, wine tower, floating shelves made out of stone, oversized vases and unique bar stools.
2. Eco-friendly
The preservation of our planet is in everyone's best interest because we are all conscious creatures. It only makes sense to choose ecologically friendly materials, fixtures, and finishes.
3. Space Maker
A clean and orderly kitchen is made possible by providing enough storage space. The latest cabinetry offers a wide range of solutions for keeping things tidy. Recycling bins, spice racks, pull-out tray systems, full-extension drawers, and cutlery dividers are just some possibilities available.
There are several storage options on the market to maximize your available space.
When it comes to cabinet storage, slide and pull-out drawers are becoming increasingly popular. This type of cabinetry can house pots and pans drawers, pull out cabinet stool, spice/oil rack etc. Cabinetry utilization has never been so simple.
4. Accessories
Consider accessories in your new kitchen. There are many items that can be an asset in your kitchen, such as a pot filler, soap dispenser, wine rack, a pull-out trash can with a recycling bin, and a step stool can aid you in reaching high cabinets or shelves in your home.
Throughout Toronto, Sunnylea Homes' kitchen renovation specialists suggest ideas for designing and delivering gorgeous custom kitchens.
5. Lighting
Include windows and a variety of light fittings to add depth to the kitchen's lighting, such as spotlights, work lights, and hanging lights. Hanging chandeliers are a great way to add elegance and warmth to a room.
To provide grandeur to a room with high ceilings, you may add lighting above your cabinets to illuminate the walls and ceiling. A well-lit room has a calming effect on the mind.
6. Materials
Using materials that are both durable and easy to maintain is essential. Selecting accessible, clean, robust, and durable materials even after repeated usage will help you make the best choice for your project.
7. Using Natural Materials for Your Countertops
Due to their long lifespan and minimal maintenance appeal, natural stones like granite and quartz are excellent countertop options. They have grown increasingly popular for perimeter counters, islands, peninsulas and bar tops.
8. Refrigerator with French Doors
The French door refrigerator is one of today's hottest trends. With two side-by-side refrigerators and a bottom freezer, these refrigerators provide plenty of room for your favourite foods. Depending on the model, extra-large deli storage rooms, beverage chillers, and a variety of additional organizational conveniences can be found.
9. Incorporate Softness
To soften the kitchen, you may use items like upholstered chairs, runners, curtains, blinds, and even artwork. You may add style and trends from season to season or as your style changes.
To get the highest-quality kitchen renovations in the greater Toronto area, go with a kitchen renovation company you can rely on. The best kitchen renovation specialists in the area can help you with your remodelling needs. Call us today, and we'll get started designing your dream kitchen with our team of talented and experienced kitchen designers and cabinet makers!
Call Sunnylea Homes today at (416)-789-5229.