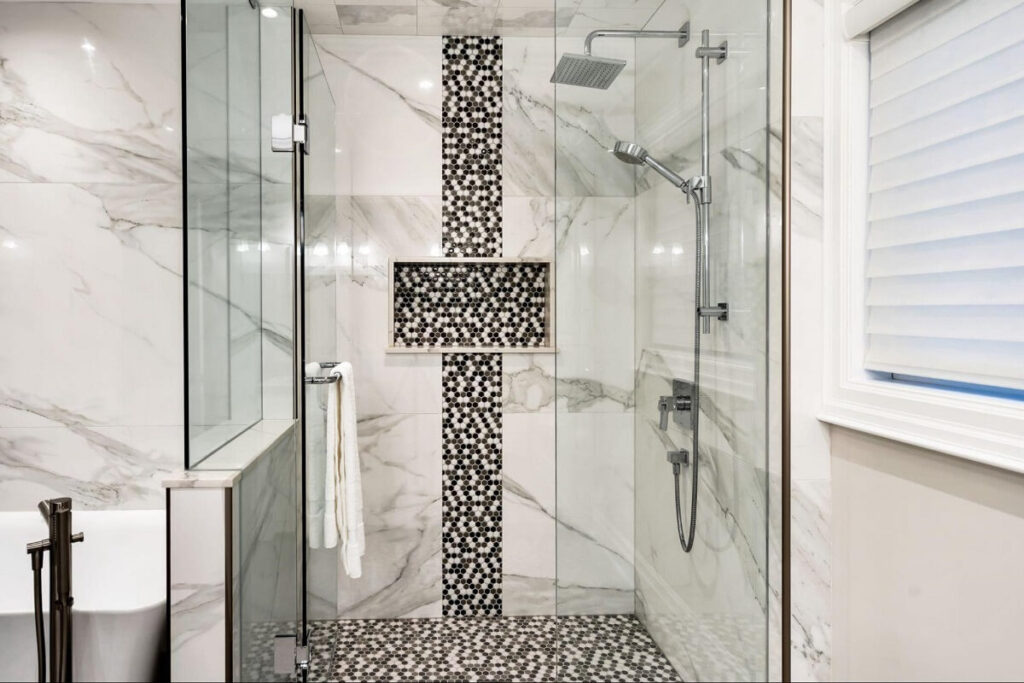 5 Creative Bathroom Tile Ideas
5 Creative Bathroom Tile Ideas
https://sunnyleahomes.ca/wp-content/uploads/2022/02/6-creative-bathroom-tile-ideas-1024x683.jpg
1024
683
Marino Scopelleti
https://secure.gravatar.com/avatar/4f0c6f55dea8f5901fae4cb7ca19ec54?s=96&d=mm&r=g
Bathroom tile selections can be irresistible and strenuous at the same time. There are never-ending options in size, colour, texture, material, and shape, but they're also large surfaces to set up tile and designs to lay tile. If you plan to refurbish your bathroom, the concept of marble and all-white will intrigue you. At Sunnylea Homes, we believe there's so much more to glimpse at from patterned, bold to monochromatic tile inside your shower or on the wall or even the bathtub? But if you want to cling with a white, pastel, and delicate look or something more elegant, we have numerous inspirations of bathroom tile ideas listed below.
1. Pebble Tile Design
Want to give your bathroom a spa-like feeling and your feet a tiny massage whenever you entire the shower? Go for a beautiful pebble tile flooring with a subtle design for your bathroom. The latter is a perfect way to add texture to your bathroom while sporting a classic look.
2. Floor-to-Ceiling tiles
If you want to elevate your bathroom's look and overall feel, then pulling your tile up the ceiling is a perfect way to get your guests awe-struck. However, this elegant look can be a little expensive to achieve, but the result is beyond stunning. You can add standard subway tile with black grout that looks dramatic and gorgeous against the black tile floor. Black grouted tiles change the focal point and complement the space.
3. Impeccable Chevron
If you want your bathroom to look classic and wish to have a bit of texture, then laying tiles in a chevron outline is lovely. Our bathroom remodelling contractors recommend creating a bathroom that features a tiled floor and wall with grey + white tiles that are distinct enough to make a definition.
4. Dark gives more Chasm.
Our bathroom renovators in Toronto advise you to create an excellent open concept shower with rich, spectacular black tile to create an illusion of more room in the bathroom. However, we recommend you select a contrasting colour with black for the rest of the wall.
5. Graphic Tile Layout
We can create a fabulous look that instantly becomes the focal point of your restroom? How, you ask? By just selecting a graphic tile design! You can never go wrong with graphic design tiles as they are a great way to modernize a bathroom and give it a whole new appearance and feel. Even if you only renovate the floor or backsplash of your bathroom, a bold, stunning contracting graphic tile will transform your space in no time.
Do you want to change the layout or aesthetics of your bathroom but are unsure where to begin? Call Sunnylea Homes at (416)-789-5229 for creative and innovative bathroom ideas.