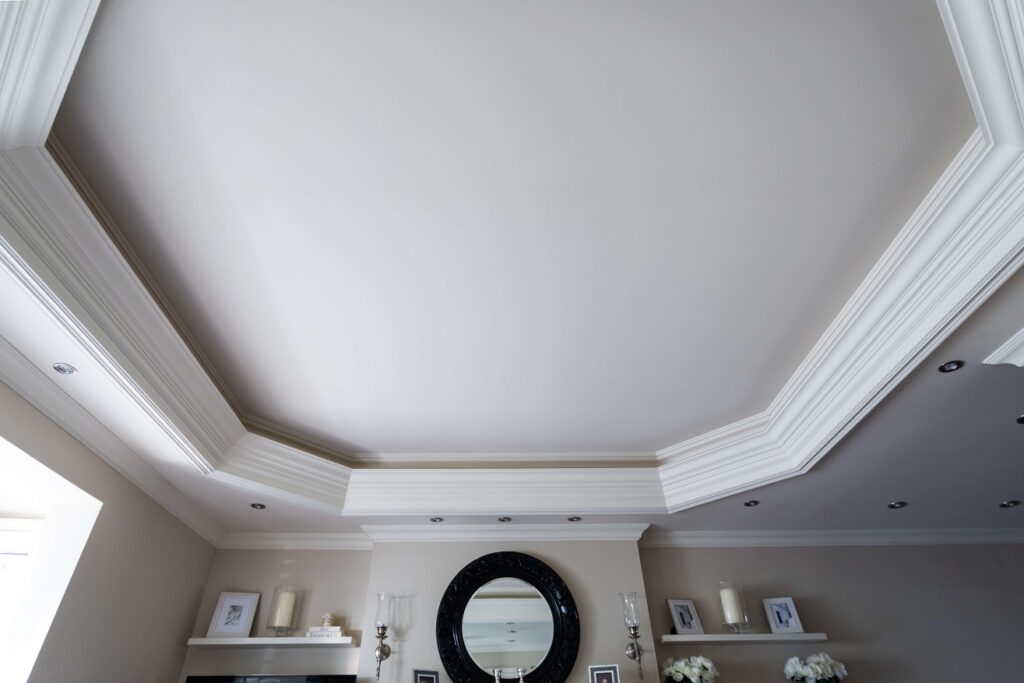 5 Ceiling Ideas to Elevate a Room
5 Ceiling Ideas to Elevate a Room
https://sunnyleahomes.ca/wp-content/uploads/2022/02/5-ceiling-ideas-to-elevate-a-room-1024x683.jpg
1024
683
Marino Scopelleti
https://secure.gravatar.com/avatar/4f0c6f55dea8f5901fae4cb7ca19ec54?s=96&d=mm&r=g
In the earlier times, most people used to be very keen on the concept of four walls in home design, but today it is a lot more—adding a fifth wall to the four wall trend is a fresh cohort design idea that many upgrade to. For decades, homes have had a ubiquitous flat and white ceiling, no matter the colour of the walls. Our renovation contractors will guide you on ceiling designs that will take your home interiors a notch higher. Being one of the most reputed home renovation companies in Toronto, we believe your ceiling does not always have to be flat and white. Therefore, we are here to help you accentuate and elevate your room with our top 5 ceiling designs.
1. Tin Ceiling
Nothing will ever awe a guest fairly like a tin ceiling. In the early 1900s, tin ceilings were the design statement of choice, adding a whole lot of drama and moodiness to even the tiniest of rooms. Being a licensed home improvement company in Toronto, we can customize your ceiling requirements with diverse finishes, sophisticated stamped patterns, and framing elements. You can opt for authentic tin plates as they are lightweight, low maintenance, and durable, which is why countless historic homes/barrooms today pride themselves on original tin ceilings.
2. Crown Moulding
Stunning crown mould is one of the most debated topics for buying old homes, but you often forget that such timeless charm and intricate elements can still be added to your rooms. Be creative and add a centre medallion to create an authentic 'wow' moment in your room. While the crown moulding can look expensive due to its intricate detail, you can replica it with an attachable mould around your current light fixture.
3. Over Vaulted Ceilings
Into the urbane, classic look, but still wanting to make your room a little more dramatic and contemporary? Sunnylea Homes' home improvement contactors will go that extra mile and end by finishing it with baseboard-to-ceiling, top-to-bottom navy paint and a vaulted canopy for a high-impact finish. It's warm while still a stroke formal, creating an ideal inky background for colossal art pieces.
4. Hanging Plants
Pothos, also known as devil's ivy, is one of the easiest houseplants to grow as it they are drought-tolerant lush growers that can thrive about in any lighting condition. They are perfect nature's chandeliers, so hanging such plants at different lengths from your ceiling gives you an easy, inexpensive bohemian look that will help clean the air and uplift your mood.
5. Blur the lines
Does your room have a short, inclined ceiling? Hold on! You don't want to cut the wall in half and make the room seem even more minor than it is. We recommend drawing the eye up by using dark paint to shade and blur the edging/frame between the wall and ceiling. This will make your room feel comfier and will not look cramped up.
Want to jazz up your room? Then call Sunnylea Homes at (416)-789-5229 for great ceiling ideas to get the inspiration flowing.