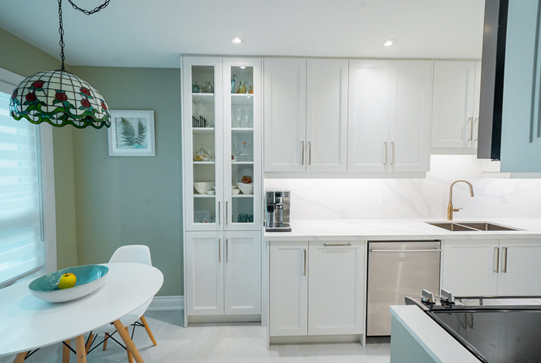 5 best tips for remodelling your kitchen
5 best tips for remodelling your kitchen
https://sunnyleahomes.ca/wp-content/uploads/2020/11/5-best-tips-for-remodelling-your-kitchen.png
541
363
Marino Scopelleti
https://secure.gravatar.com/avatar/4f0c6f55dea8f5901fae4cb7ca19ec54?s=96&d=mm&r=g
What is a dream kitchen? Is it a room with smart storage solutions, proper lighting, and adequate prep spaces to make your time in the kitchen easy, efficient, and enjoyable? Or maybe something with an open-concept layout and dedicated areas for prepping, cooking, eating, entertaining, and working? Your dream kitchen can be all this and more. It can be whatever you want it to be! Most householders spend a massive chunk from the renovation funds on kitchen remodelling compared to other home improvement projects. And why shouldn't one? A kitchen is a space that brings out the vibe and personality of a house. Sunnylea Homes specializes in designing and delivering beautiful custom kitchens in Toronto and across the GTA. Our innovative team of
kitchen renovation specialists
can create the kitchen of your dreams. Follow these five tips for a hassle-free kitchen remodelling:
Tip 1- Plans and Ideas
Planning a remodel should be given an ample amount of thought and time as it's the base for any project. Define a practical project scope that suits lifestyle, preferences and is within your budget. Planning and ideation are where most can be understood, like the cost, patterns, design with ergonomics, fixtures needed, the budget, or any inconveniences can be balanced if good ideas and planning occur.
Tip 2- Get Real About Appliances
Householders often get carried away when planning ideas and layouts for a new kitchen. A top-grade burner or fancy new refrigerator would make an eye-catching centrepiece, but it may not necessarily mean you have an actual need for it. Usually, appliances are devices used to store and cook food. The kitchen you remodel shouldn't be all about the tools; it should be about functionality and design. Unless there is an absolute requirement for appliances that can be put to fair use, one should focus on long-term features that add value, like cabinets and flooring.
Tip 3- Power of Lighting
Lighting makes a tremendous difference and is also a crucial component of a kitchen design. Good lightings make a kitchen look larger and brighter, adds beauty, and helps individuals work safely and efficiently. Homeowners should take full advantage of the natural lighting available in the kitchen space and then strategize according to their needs. Lighting sets the ambience of a kitchen, and it can make it or break it, so take out some of your time to plan according to your preferences.
Tip 4- Quality
Any renovation projects need to build with the right quality products and materials, and Sunnylea Homes renovations guarantee suitable materials and good quality work. Sometimes homeowners may get tempted to choose low-grade materials to save up remodelling costs, but inferior quality materials won't sustain for a long duration in the future. One major drawback of low-grade products is homeowners do not have a say if they want a customization of specific parts of the kitchen. For example, if the cabinets need to be heightened at one particular level, the kitchen racks need an exact length, etc., with limited choices comes limited functionality.
Tip 5- Storage
One of the significant reasons why householders opt for kitchen remodelling is their need for more space. One can maximize storage and cabinet space in several ways, like handy dividers for deep cabinets, pull-out pantry racks, corner drawers, increasing drawer depths, etc. Storage is not restricted to boring shelves and cabinets; concepts like escalating shelve units on blank space or wall, hanging a ceiling of a mounted rack of pots and pans are a trend nowadays. Anything and everything is possible if proper storage and space are utilized. Make your dream kitchen a reality. Call your trusted
kitchen renovation contractor in Toronto
at
416-789-5229
or
contact us online
. We can discuss a range of kitchen remodelling ideas that suit your style and maximize your budget.