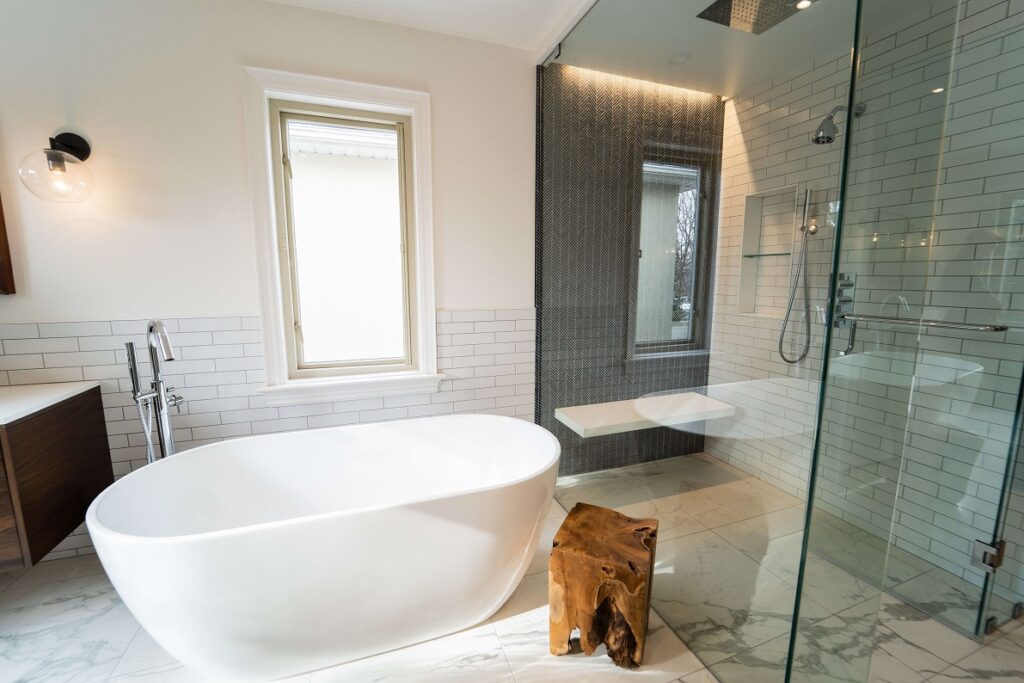 10 Bathroom Trends That Will Be Huge In 2022
10 Bathroom Trends That Will Be Huge In 2022
https://sunnyleahomes.ca/wp-content/uploads/2022/01/10-bathroom-trends-that-will-be-huge-in-2022-1024x683.jpg
1024
683
Marino Scopelleti
https://secure.gravatar.com/avatar/4f0c6f55dea8f5901fae4cb7ca19ec54?s=96&d=mm&r=g
Don't you agree that bathrooms are in the spotlight, and most people love having a spa-worthy bathroom? At Sunnylea Homes, we believe bathrooms are spaces used daily by everyone; hence their design must be as important as bedroom/living room. Therefore, we have curated the top 10 bathroom trends in 2022 that are expected to become extremely popular among homeowners of Toronto.
1. All-in-One Shower & Bath
The two-in-one shower and bath idea is being reinvented. Today, instead of an overcrowded tub with a showerhead and shower curtains, our bathroom remodelling contractors think a glass divider holds a full shower and tub. If you're a person who likes maximizing practicality and convenience, then this is a great option to consider.
2. Indoor Outdoor Merger
Although this isn't a new concept, yet in 2022 the ideology is unique. By combining placement, materials, textures, and architecture, bathrooms feel on par with their background. Timber indoors and larger glass walls are expected to be trendy.
3. Twin Shower Heads
Waiting for long hours for your significant other to finish showering is a thing of the past? With more oversized showers and twin showerheads, you would bathe simultaneously and save time. Our bathroom renovators in Toronto will help you choose fixtures that contrast the room's colour scheme to enhance the curb appeal.
4. Wet Room
Are you fed up with moving to separate shower cubicles – the bath, sink, and shower? What if we tell you that all of it can fit in the same compartment! Well, the wet room is the ideal option. All you need is to create an interior shell that can withstand the wet conditions of a shower. Furthermore, these rooms are easy to clean and perfect for maximizing the floor space.
5. Plants
Ever since the pandemic, most people have felt the need to be connected with nature. Styling your bathroom with natural elements like indoor natural plants is a way to reduce stress/anxiety. Alongside plants also improve the air quality in the space.
6. Spa-like aspects
Spa-worthy bathrooms have become a priority for most homeowners, and this trend is expected to continue in 2022. Tiled shower pans finished with mosaic tile, euro-style shower doors with thicker glass, minimal framing, stylish hardware, and marble or granite solid surface countertops combined with on-trend under-mount sinks are also quite a trend in 2022.
7. Standout benches & stools
Who doesn't admire decorative bathroom accessories and trays to gather their favourite well care items? Standout benches and stools make excellent add-ons in the bathroom, especially when combined with soft and textured elements that will undoubtedly be quite a trend in 2022.
8. Statement marble
Subtle statement marble in white and grey shades is used in higher-end luxury schemes. Our bathroom renovation contractors can create a sense of extravagance by using materials that contrast with each other to construct visual and perceptible touch in the room.
9. Picturesque murals
Homeowners who like clean lines and modern bathrooms are becoming more creative by using bold shades on walls or little alcoves. Colourful, intricate murals and hand-drawn scenes in the bathrooms will create spa-worthy sanctuaries for the homeowners to unwind and enjoy the day.
10. Freestanding Basins
Freestanding basins add a lot of character to your bathroom space instead of standard built-in versions. When paired with the most modern bathroom tile trends of 2022, it will look more luxurious.
Are you ready to update your home with 2022 bathroom trends but not sure where to start? Call us today to get started with the finest bathroom interior designers.